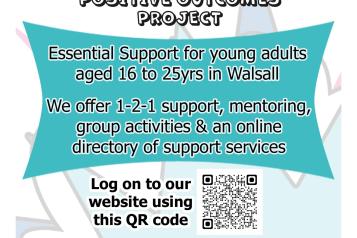 The Positive Outcomes Project (POP) is a health and wellbeing service catered for young adults aged 16-25 in Walsall. We are here to create an accessible support network that is welcoming. We will mentor young adults by exploring challenges together and any issues that are affecting them. We will encourage better coping mechanisms and signpost to specialist help. This service is co-produced and designed by them, which adds ownership and creativity.

There are a few pathways to engage young adults in this service. The Hubs are a friendly, safe space, where young adults can drop in, socialise, and access the necessary support. We will be opening 6 Hubs in key locations across Walsall. These will host positive group activities which include a life hacks group, employability skills and many more depending on current issues raised. Whilst we are waiting for our Hubs to open, we will be using our mobile hub "the youth bus" to visit communities as a pop-up drop-in service. We
encourage everyone to keep an eye on our social media pages, as it will inform you if we are in your local area.

The website is an online directory which is accessible to everyone, it covers a vast number of issues and provides links and details of referral pathways. This can be used to signpost young adults to a wide range of local health and wellbeing services. Mentoring and 1 to 1 support are available via a referral through our website. This allows a nurturing approach with the young adult being matched with one of our mentors, who are trained to deliver health and wellbeing support. Our mentors are passionate about making a difference and changing lives. Our mentors will be present at the Hubs to motivate and inspire young adults. Sessions can be in person or virtually to ensure young adults are comfortable in engaging and get the most out of the service.